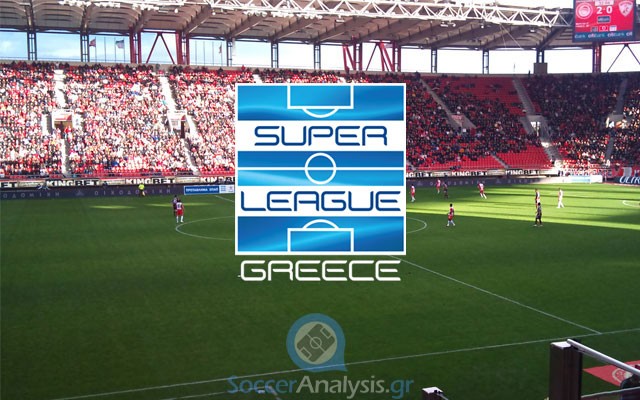 Beware of the clubs involved in relegation battle
After a careful examination of the offered odds for the Super League matches of Day 29 I must warn you things are not as easy as the bookmakers tell us. The schedule of all clubs makes it certain there cannot be any significant changes in the standings. Olympiakos is only a win away from winning the title; PAOK, Atromitos, Panathinaikos and Asteras will be in the Playoffs no matter what happens so the only thing left is to determine which teams will relegate. And believe me when I say this will not happen this week.
The previews and betting picks for the Saturday matches of Day 29:
Analysis: Veria – Atromitos
Veria got a very important away win in the last match against Kalloni at OAKA. The poor performance of their opponent allowed the players of Mr. Dostanić to climb at the sixteenth (knockout) place in the standings and increase their chances for saving the season. Their win came easier than expected with Ben scoring a hat-trick (43', 85' penalty kick and 86') although the team was playing with a man down since 51' when Sissoko received a red card. Their recent performances (2W-2D) make everyone in the team optimistic they will stay in Super League especially since they will have four of the remaining six matches at home.
Banned: Sissoko (DEF/15), Kaltsas (FWD/26/2 goals/5 assists)
Injured: Apostolopoulos (MID/12/1 assist)
Other: Trap (MID/21/1 assist), Zezinho (MID/20).
Atromitos got an emphatic home win in the last match against Panionios (4-0). They practically demolished their opponent with three goals at 3', 22' and 26' and they kept creating problems to their defense throughout the match. The last goal came at 63' with Atromitos proving once again why they are considered by many the second best team in the league after OIympiakos. Coach Paraschos was very pleased with the performance of his team that has seven wins in the last eight matches.
Banned: Lazaridis (DEF/28/2 goals/1 assist)
Injured: –
Betting Pick: The draw at halftime @ 2.00
Veria has been a difficult opponent for Atromitos in the last two seasons. Both their matches in season 2012/13 ended as draws (2-2 at home, 0-0 away) while they are among the teams that left Peristeri with the minimum possible defeat this season (1-0). There is no doubt that Atromitos is a better team but Veria is highly motivated lately having kept a clean sheet in three of their last four matches. I do not think they are capable of winning but the Draw @ 3.20 has a better value than the underrated away win.
Analysis: OFI Crete – Apollon Smyrnis
Note 1: The owner of Apollon Smyrnis has made many statements after the home defeat from Panionios (1-2) accusing referees and club officials of having a specific plan to help Platanias (and other clubs) to stay in Super League. His negative comments on TV after the easy home defeat of Kalloni from Veria (0-3) were followed by an intervention of the athletic prosecutor for the fourth time in a few days. Some reports say this time the fine will be followed by a point deduction for his team.
Note 2: OFI will have a midweek home match against Panathinaikos for the Semi Finals of the Greek Cup. They are safe in the standings and it is probable that Mr. Sa Pinto will make changes in the starting lineup. For the same reason attendance is expected to be lower today.
OFI came close to the win in the last home match against Giannina (1-1) but their goal at 85' was answered by their opponent in the added time (92'). Both goals were fantastic I advise you to watch the video with the highlights to see them. Generally OFI was in control and had more attempts on goal (10 vs. 6) but it was clear throughout the match that Giannina were dangerous enough in their counter attacks to deserve the point of the draw. The home team is strong at venue Theodoros Vardinogiannis (5W-7D-2L, goals 14-12) but they also have their mind in the midweek match against Panathinaikos which can determine their place in the Cup Final for the first time since season 1998-1999.
Banned: –
Injured: Šišić (MID/4), Fraggoulakis (MID/8/1 goal), Labropoulos (MID/13/1 goal/1 assist)
Doubtful: Bourbos (DEF/24/1 assist)
Apollon Smyrnis got a very important win in the last home match against Platanias (3-1). They were more determined and they deserved the three points which kept them out of relegation placement. Their win becomes more important if we consider they managed to win by two goals (Platanias had won the first match by 2-0). If those two teams will have the same points at some point Apollon has the advantage of a better goal difference (currently -8 vs. -17). The bad news is that they will have to face Panathinaikos, PAOK and Olympiakos in the remaining matches and they cannot feel safe yet.
Banned: Kanakoudis (DEF/15/1 assist)
Injured: –
Betting Pick: Both teams to score @ 2.20
This has become a safe bet lately when having to deal with Apollon Smyrnis. In fact they have scored and received goals in 6 out of their last seven matches. I consider OFI to be less dangerous in offense but I believe the upcoming match against Panathinaikos will influence their performance. The motive of Apollon for points is way too strong to be ignored so a handicap win of Apollon (+0.5) @ 2.00 should not be ignored.  OFI has failed to get a home win this season against other teams in relegation fight like Platanias (0-0) and Veria (0-1). The way Apollon plays since coach Sanchez took over makes them more dangerous than those two.
Analysis: Olympiacos – Panthrakikos
Attention: This match will be held behind closed doors because of the incidents that took place in the home defeat from Panathinaikos.
The players of Olympiacos disappointed the supporters of the club for a second consecutive match. The humiliating home defeat from Panathinaikos (0-3) was followed by the defeat at Toumba against PAOK (2-1). The Champions have complained for referee of that match, Mr. Kakos, for not sending Insuarralde (PAOK) off after his punch at Ndinga while the score was still at 1-1. They are right but the truth is their performance was not promising a win anyway. PAOK was more determined for the win and their attempts on goal (11 vs. 5) are enough to understand they were more dangerous than the Champions. The team has not played well since the amazing home win against Manchester United (2-0) and they need to improve if they really want to survive the upcoming re-match. Mr. Míchel is expected to rotate the lineup again to protect key players for the Wednesday match which is the most important in the recent history of the club.
Banned: –
Injured: Siovas (DEF/11), Ibagaza (MID/9/1 goal/1 assist), Marcano (DEF/4/1 goal), Saviola (FWD/23/11 goals/3 assists)
Doubtful: Olaitan (FWD/16/8 goals/4 assists) is in the roster but it is not known if he will be in the starting lineup.
Out to rest: Manolas (DEF/22/3 goals) and Salino (MID/17/1 assist) were left out because Mr. Míchel needs them for the re-match against Manchester United.
Panthrakikos comes from a home win against Ergotelis (2-1) which ended their negative streak of four consecutive defeats. They were in control throughout the match and they got a two goal advantage (20' Ben Shabat – probably the best goal of day 28 and 65') but Ergotelis became more dangerous and scored at 74 (Bouchalakis). The score did not change until the final whistle but the remaining minutes were very interesting with both sides looking for more goals. Mr. Mantzios will have to deal with important absences again but the good news is there is no stress in his team as they are having the best season in their history in Super League.
Banned: Papageorgiou (DEF/28/1 assist), Tzanis (FWD/26/5 goals/6 assists)
Injured: Šeremet (GK/19), Koutsopoulos (GK/4), Cases (MID/19/6 goals/7 assists), De Soouza (FWD/26/9 goals)
Betting Pick: Olympiacos (-2) to win @ 2.40
Olympiakos has only wins against Panthrakikos (9W-0D-0L, goals 26-4) with most of them (8/9) being with two goals or more. Panthrakikos scored in the last two visits in Georgios Karaiskakis in season 2012-13 (4-1 for Super League, 6-2 for the Cup) while the match of the first round was another easy win for Olympiakos (1-4). The Champions will not have the support of their fans but someone must pay the price for their last two defeats and I am afraid Panthrakikos will add one more emphatic score to their history.
Even a secondary lineup of the Champions is enough to score many goals. A recent example is their away win against a difficult home team like OFI (0-4) before the first match against Manchester United. With or without the help of Panthrakikos I expect to see many goals here. You should keep in mind that Panthrakikos loses all concentration on defense as soon as the first goal is scored regardless of how good they played. Considering their absences and how pissed off the players of Olympiakos must be results of Over 3.5 goals @ 2.40 and Over 4.50 goals @ 4.00 worth a shot.