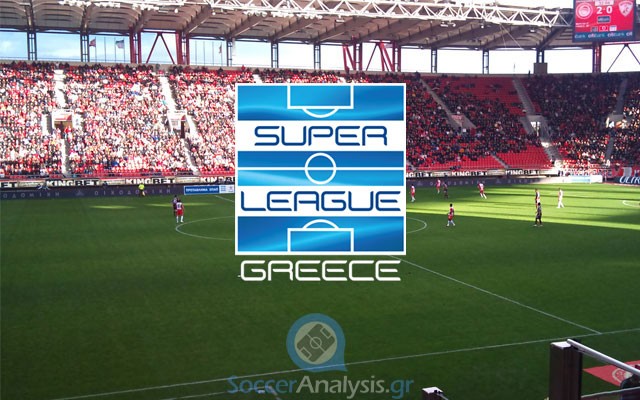 Changes in the lineup of Panathinaikos
I lost precious time because of the Football League's Saturday matches so the first match in Super League (Panetolikos vs. Asteras Tripolis) will not be commented properly. The remaining two matches will be available within an hour. I noticed some strange changes at the odds for Day 30 and I must warn you to be careful. High confidence bets at this moment are out of the question. Believe me, there is still a long way for Day 34 and many clubs are out of motive regardless of what you may think.
The previews and betting picks for Day 30:
PANETOLIKOS vs. ASTERAS TRIPOLIS
Panetolikos
Banned: –
Injured: Silva Junior (MID/24/1 goal), Theodoridis (MID/24/5 goals/3 assists)
Asteras Tripolis
Banned: Usero (MID/26/3 goals/5 assists)
Injured: –
Betting Pick: Panetolikos (0:0) @ 1.90
The home strength of Panetolikos (9W-4D-1L, goals 21-6) can cause some serious problems to Asteras Tripolis. They might be dangerous when playing away (5W-4D-5L, goals 15-17) but I have been telling you all season they are not as strong as last year. The away win in this match is the least probable outcome regardless of how the bookies see it.
PANTHRAKIKOS vs. ARIS
Panthrakikos was easily defeated in the last away match against Olympiakos (2-0, behind closed doors). The red card at Sarakatsanos (41') made things even more difficult for them and they must be satisfied with the final score, especially after their huge difference in the total attempts on goal from the Champions (23-2). In fact Panthrakikos only made two long distance shots in that match offering Roberto a very pleasant afternoon. The players of Mr. Mantzios are out of motive having been defeated in five of their last six matches (1W-0D-5L). They did not have a bad performance in most of them but they seem to quit as soon as they receive a goal.
Banned: Sarakatsanos (DEF/20)
Injured: Šeremet (GK/19), Koutsopoulos (GK/4), Cases (MID/19/6 goals/7 assists)
Aris got a new home draw in the last match against PAOK at Charilaou (1-1). They scored first at 23' (Tatos) but PAOK managed to score the equalizer after an own goal of Economopoulos at 45'. This match was a rivalry battle and the need of both teams for the win made them look for it with a lot of hard play. The referee was forced to stop it for a while (ten minutes were added during the first half) to calm things down. The red card at Kace (45+6) gave Aris an advantage but once again they were too stressed to look for that winning goal. Theoretically they can still hope but it is highly unlikely they can reach the sixteenth place as Veria, Platanias and Apollon Smyrnis are also highly motivated as well.
Banned: Bougaidis (DEF/5/1 assist), Bakassetas (FWD/6/3 goals), Aganzo (FWD/17/3 goals/1 assist)
Injured:  –
Betting Pick: Both teams to score @ 1.90
Aris must win this match to stay alive. They are used to important absences and the way Panthrakikos plays lately allows them to hope for a win. I cannot see them keeping a clean sheet but they surely can score against an opponent who patiently waits for the end of the season. Another good option is a result of Over 2.5 goals @ 2.10 but if you are looking for a winner, the real value bet is the win of Aris @ 4.20. I do not believe they will save the season but this does not mean they will lose all their matches until the end.
PANATHINAIKOS vs. APOLLON SMYRNIS
Panathinaikos managed to get the win in the last away match against Giannina (0-1). They were more dangerous than their opponent in offense although they did have an average performance. The goal by Ajagun at 36' was enough to give them the three points and get closer to PAOK and Atromitos in the standings. Panathinaikos also had a midweek away match for the Cup Semi Finals against OFI where they lost (1-0) after a new average performance. I watched that match and I must say that the Greens did not have the energy I saw in other matches this season. According to many reports, Mr. Anastassiou plans to make changes in the lineup to rest key players who show signs of fatigue.
Banned: Risvanis (DEF/13)
Injured: Bajrami (MID/8), Lagos (MID/23/2 goals/1 assist), Petrić (FWD/4)
Apollon Smyrnis was defeated in the last away match against OFI (2-0) but they did not go down as easily as the final score shows. OFI was in control of the match (attempts on goal 16-5) but you should keep in mind Apollon scored two goals which were cancelled. Delizissis (31') and Panteliadis (46') managed completed the passes they received but they were both caught only centimeters offside by the linesman (both decisions were correct). Coach Sanchez must find a way to overcome the tough schedule of the club in the remaining five matches where they will face three top teams (Panathinaikos away, PAOK at home and Olympiakos away).
Banned: Tsokanis (MID/20/1 assist), Hatzizisis (DEF/13)
Injured: –
Betting Pick: Apollon Smyrnis (+0.5) @ 2.85
This is definitely a high risk option but the changes in the lineup of Panathinaikos can make Apollon hope to get a positive result. Panathinaikos in on a winning streak of three matches and this is the second time they do it this season. The last time they did not reach the fourth and I expect the same to happen today. I remind you that Apollon had some great matches against top teams since Mr. Sanchez took over.
PAOK and Panathinaikos have joined forces in their efforts to stop Olympiakos' domination in Super League. Rumors want Olympiakos to prefer seeing Platanias saving the season because of the players they have loaned to them. If Panathinaikos will lose this match (Platanias and Veria have difficult away matches) it is highly probable that Apollon will feel a lot safer in the standings. Their next match is at home against PAOK and we should not forget their next opponent has not won in the last six matches away from Toumba. The win of Apollon @ 8.00 is difficult but motive can make a huge difference here. Keep in mind that Apollon Smyrnis has 1W-5D-2L in away matches with Mr. Sanchez so far…