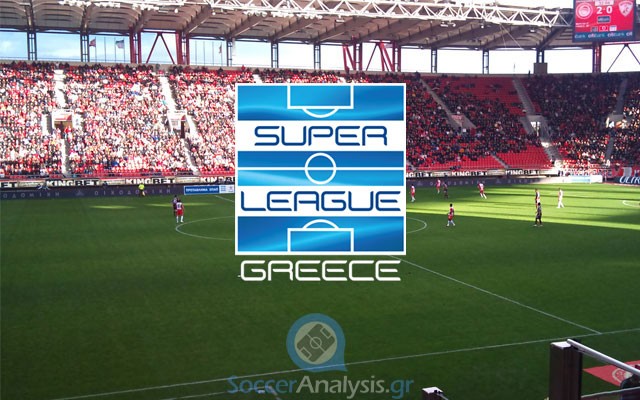 The seven days competition
Last Sunday I heard on the radio a very interesting comment on the web radio of Sport.fm. Kalloni had just scored the winning (as it turned out) goal against OFI, Platanias was down by 3-0 from Atromitos and Xanthi was on the lead by 2-0 against Panionios. At exactly that moment the commentator became a bit sarcastic calling Super League the "seven days competition". The reasons behind the comment were the odds on the wins of all three matches. He could not help wondering how Kalloni won OFI only a week later after the 7-0 defeat from Platanias (OFI was coming from a midweek win against Panathinaikos for the Cup). How Platanias failed to score once against Atromitos since they did show they have some serious firepower. How Xanthi got a clean sheet win only a week later from the away match against Panetolikos (the only one this season with 0 attempts on goal). And finally, how Panionios failed to score against Xanthi when their offense was hot enough to score four goals against Levadiakos…
It is quite obvious there some strange things going on lately. Considering the behavior of most teams, it seems pointless to analyze everything when motive (or public relations) determine how this season will end. The previews and betting picks for Day 31 (and most probably for the remaining days as well) will be short:
VERIA vs. XANTHI
The absence of Ben (FWD/30/14 goals/3 assists) is very important but Veria is still highly motivated for a positive result. Even without him, the poor away performances of Xanthi (1W-4W-10L) make the home team a favorite for the win.
Betting Picks: The draw at halftime @ 2.15
I don't really expect to see many goals in this match. The halftime/fulltime option Draw/Veria @ 3.90 can be another way to extract more value here.
PLATANIAS vs. LEVADIAKOS
The home win opened around 1.55 and right now it is around 1.28-1.30. We have already seen what happened the previous time this happened (7-0 against Kalloni). Levadiakos is a poor away team anyway (0W-1D-14L, goals 11-36) and they come from two consecutive away defeats with high scores (4-2 against Panionios and 4-1 against Xanthi). Platanias would be a favorite even if Levadiakos was in need of points.
Betting Pick: Over 2.5 goals @ 2.10
What else can I expect? Levadiakos scores on away matches with Mr. Pantelidis at the bench so Platanias must score at least twice to get this match. The next good option is a result of Over 3.5 goals @ 4.00.
PANIONIOS vs. PANETOLIKOS
Panionios is a lot safer after the home win against Levadiakos but they do need a couple of points just to make sure nothing dramatic happens. At the same time, the five defeats of Panetolikos in their last seven matches depict their lack of motive. Both teams are well aware the season is over for them and they are allowed to make their plans for 2014-15.
Betting Pick: The draw @ 3.50
The odds favor Panionios too much. They are not that desperate for points and their schedule includes both Platanias and Veria in the last two matches of the season.
OFI vs. ATROMITOS
OFI lost the away match against Kalloni (1-0) and showed the only thing that will be on their mind until this season ends is the re-match for the Cup against Panathinaikos.  Atromitos is interested in the second place and I do expect them to be motivated for the win again.
Betting Pick: Atromitos to win @ 2.40
OFI is (or was) a reliable home team until now but Atromitos has survived in more difficult venues. The odds for the away win are fair and I consider them an acceptable risk.
ARIS vs. ERGOTELIS
The season is officially over for Aris after the last away win from Panthrakikos. Even if they will win today, do you actually think they will also win Olympiakos (away), Asteras Tripolis (away) and Giannina (home) in their remaining matches? Ergotelis is a better team anyway this season and they can return to wins now that the home side is disappointed.
Betting Pick: Ergotelis to win @ 3.20
Considering some recent results of Ergotelis like the away draw against Panathinaikos (1-1) and the away win against Asteras Tripolis (2-3) I believe it is up to Ergotelis to win this match.
PANATHINAIKOS vs. KALLONI
The last home win of Panathinaikos against Apollon Smyrnis (3-1) was more stressful than the final score shows. The Greens were on the lead since 33' (Berg) but Apollon did not give up and managed to score the equalizer at 80'. For one more match, Berg (FWD/27/15 goals/6 assists), took the team to his shoulders and with a new goal at 86' he allowed gave Panathinaikos a fourth consecutive win for the first time this season. Kalloni comes from a home win against OFI (1-0) after a good performance but this match like their previous (7-0 defeat from Platanias) are expected to attract UEFA's attention very soon.
Betting Pick: The win of Panathinaikos (-1.5) @ 1.65
The difference of quality between the two teams is depicted not only in the standings but also in the match of the first round at OAKA (0-4). Panathinaikos needs the win to keep up with Atromitos and PAOK for the Playoffs. The win can also expand their distance from Asteras Tripolis that plays against Olympiakos. Berg will be banned for this match but if Kalloni can receive seven goals from Platanias, I guess they can receive a couple from Panathinaikos. Right?
ASTERAS TRIPOLIS vs. OLYMPIACOS
Mr. Verghetis, the coach of Asteras Tripolis, stated his team did not deserve the away win against Panetolikos (0-1). The total attempts on goal (14-5) show Panetolikos deserved a lot more but Asteras has been very lucky all season and they did it again. A goal by Sankare at 64' was enough to give them the win while they also came close to 0-2 at 83' when Barrales missed a penalty kick. Olympiacos comes from a new away win, this time against Ergotelis (1-4). The Champions seemed pissed off in the first half where they scored four goals in 32' minutes with Valdez having his one of the quickest hat tricks in Super League history (3', 9' and 13').
Betting Pick: The draw @ 3.75
We already know who the favorite is but the constant rotations of Mr. Míchel combined with the home strength (9W-5D-1L, goals 26-11) and luck of Asteras Tripolis can help them get a positive result. Do not forget that Olympiakos is out of motive at this moment while Asteras wants to keep up with Panathinaikos in the Playoff places.