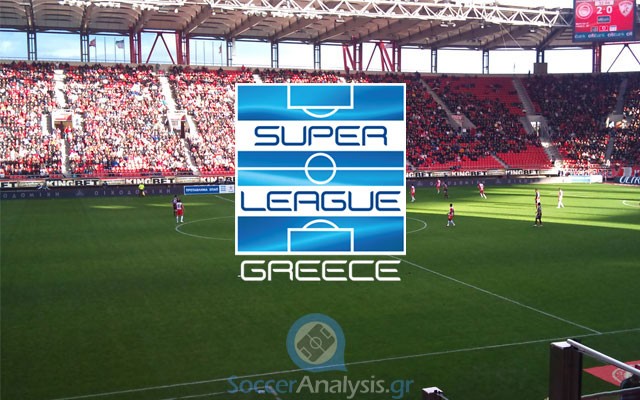 Motive is all that matters
The results of the last few weeks have made clear that the true abilities of the clubs are the least thing we should consider. The sad examples of some teams like OFI, Panetolikos, Panthrakikos (and others) that suddenly lost their fighting spirit are the main reason behind the ridiculous odds we see lately. I admit I was wrong to include matches in the Pick of the Day and the Bomb of the Day sections during this period. Motive and public relations is all that matters and the bookies are right to adjust their odds accordingly.
The funny part (every season) is that Super League's schedule has the last two match days with same kickoff time to avoid "convenient" results. Pointless if you ask me, since all teams are aware of the results in the other matches and especially the ones that interest them the most.
Let's see what we have for Day 33:
ASTERAS TRIPOLIS vs. ARIS
Asteras Tripolis was easily defeated in the last away match against Panionios (3-0). The home team scored all goals during the first half (6', 29' and 42') with Asteras being unable to react. Panionios was desperate for points to end any relegation scenarios but still, the players of Mr. Verghetis never proved why they currently have a 16 point distance from the sixth place. They are expected to go after the win in both of their remaining matches as their point margin from the second team is important for the bonus points of the Playoffs.
Aris was expected to be defeated in the last away match against Olympiakos but the final score (1-0) allows them to believe they could have got more. An attempt of Manias while the score was still at 0-0 could have given Aris the lead. Even with the score at 1-0 (84') for the home side, Aris had 2-3 good chances to score the equalizer. Their overall performance was average but it was enough to look in  the eyes the bored players of Olympiakos.
Betting Pick: Over 2.5 goals @ 1.85
I find it difficult to see Asteras staying away from wins at this moment. They are strong at Tripoli (10W-5D-1L, goals 28-12) and normally they will not have any problems against the worst team of Super League. Considering the score of the first round (1-1) I will not be surprised if both teams will score @ 2.15. After all Aris can finally play without any stress since their battle to stay in Super League is lost. At least they can go down in style.
VERIA vs. PANIONIOS
Veria survived the away match against Panetolikos (0-0) adding one more important point in the fight to avoid relegation. They have been defeated only once in the last eight matches (3W-4D-1L) and with their next two matches held at home (Panionios, Asteras Tripolis) it is really up to them to stay out of trouble. Coach Dostanić has faith his team will make it if they keep up playing like this.
Panionios surprised Asteras Tripolis with three goals (6', 29' and 42') to get a home win (3-0) that ended any possible relegation scenarios. Theoretically they still need one point but they have too many teams beneath them in the standings that are not likely to get two consecutive wins no matter what happens.
Betting Pick: Over 2.5 goals @ 1.85
The motive of Veria combined with the poor away performances of Panionios (2W-3D-11L, goals 8-27) are the main reason behind the odds we see. In the last home match against Xanthi (3-2), Veria scored three goals without their top scorer Ben Mohamed (FWD/31/14 goals/3 assists). Imagine what they can do today…
The home odds do not deserve any attention but I hope Ben will be after a hat-trick to get the first place at the Top Scorers table. A little help from Panionios would be great but I cannot trust this team when playing away anymore.
GIANNINA vs. OLYMPIACOS
Giannina lost the last away match against Ergotelis (1-0) after an average performance. With a total of 5 attempts on goal (versus 11 of Ergotelis) they probably deserve to lose anyway. They managed to hold until 72' when Tzimopoulos was sent off awarding Ergotelis with a penalty kick; Chandi did not miss and the rest is history. The team has shown signs of improvement with Mr. Petrakis at the bench but they are not safe yet. They do need 1-2 points to make sure they will not get into trouble. If they lose from Olympiakos today, the last match against Aris (away) may not be as easy as it looks.
Olympiacos had a poor performance in the last home match against Aris (1-0) and they had to wait until 84' to score the winning goal (Valdez). The attempt of Manias at the bar (30') and a couple more good chances allowed Aris to feel they could have got more. The behavior of the players forced the owner of the club, Mr. Marinakis, to have a talk with them and ask for concentration. In the midweek home match that followed against PAOK (2-1 for the Cup Semi-Finals) they added a lot of pressure to their opponent. Despite the two early goals (8' and 11'), PAOK scored at 31' (Athanassiadis) to get back in the match. The red card at Stoch at 34' gave a huge advantage to the Champions and Cup Holders. They added more pressure but failed to expand their winning margin. A lot of negative comments were made for the referee of that match (Mr. Kalogeropoulos) who left PAOK with ten men at a time that Fuster should also be sent off.
Betting Pick: Both teams to score @ 1.95
In the match of the first round at Karaiskakis (3-2) I pointed out the good relations between those two teams (I even guessed the final score). Giannina are not safe and Olympiakos can afford to give them a hand but the timing is too bad. A new defeat so soon will cause reactions to the fans so the best that Giannina can get is probably a point. Even in the case that the final result is a draw I do expect to see goals from both sides here. The scores 2-2 @ 19.00 and 3-3 @ 81.00 have got my attention.
PANATHINAIKOS vs. LEVADIAKOS
Panathinaikos comes from an away draw against Atromitos (0-0). The least thing someone could expect after watching this match was a score like 0-0. Both teams their number of good chances to score (attempts on goal 12-9) and one attempt at the bar each, but their players kept failing to send the ball into the net. Mr. Anastassiou wants his players to win the last two matches against Levadiakos and Xanthi (away) to make sure they stay close to PAOK and Atromitos who also happen to face each other today. Especially in the case that Atromitos will win at Toumba, there is a possibility that all three teams will share the same points (therefore start with the same bonus points in the Playoffs).
Levadiakos got a new home win in the last match against OFI (2-1) and the players can now feel safe. An early goal at 8' (Kone) gave them the lead but OFI got back in the match at 30' (1-1, Makris). Two minutes later (32') Mantzios scored again to give a quick end. It was obvious the players of OFI had not their minds in the field for the rest of the match. Coach Pantelidis was pleased with the new home win but so far he has failed to improve the away performances of the team (0W-1D-15L, goals 11-38, the worst in Super League).
Betting Pick: Over 2.5 goals @ 1.65
Panathinaikos has the quality to score three goals on their own especially against the worst away opponent in Super League. They do need some convincing performances to keep their fans "warm" for the Playoffs and I expect to see an emphatic win like the one of the first match (0-4 without their top scorer Berg). Levadiakos is expected to be less stressed this time after achieving the goal of saving the season. They have scored in two of their last three away matches so the option of both teams to score @ 3.00 becomes a value bet. The same goes for the option of Over 3.5 goals @ 2.90.
KALLONI vs. PANTHRAKIKOS
Kalloni was under a lot of pressure in the last away match against PAOK (2-1) but they surprisingly took the lead at 36' (Perrone). PAOK looked shocked for a while but added more pressure (attempts on goal 13-4) as Kalloni was trying to hold on their win by defending massively for the rest of the match. The two goals of the home side (73' Vukic, 84' Koulouris) were enough to adjust the score according to the performances of the two teams. The new defeat has got Kalloni into trouble but their remaining two matches against Panthrakikos and Panionios (away) are expected to give them the points they need to be safe (both opponents are out of motive at this moment).
Panthrakikos was defeated in the last home match against Apollon Smyrnis (2-3). They scored first at 11' (Tzanis) but Apollon turned everything around before halftime (17', 27'). An own goal by Kanakoudis got Panthrakikos back in the match at 60' (2-2). The players of Apollon were desperate for points and got what they wanted after a new goal of their top scorer, Petropoulos, at 76' (penalty kick). As expected, the defeat caused some negative comments from Platanias that accused Panthrakikos for a "reduced" performance.
Betting Pick: Both to score @ 2.50
The reason behind this pick is Panthrakikos. They are not strong away (1W-6D-9L, goals 14-28) but they have scored in 10 of their 16 away matches so far. Kalloni will stay in Super League if they get two points in the last two matches. How about a draw in each? Considering the schedule of the clubs beneath them (Xanthi, Platanias, Apollon Smyrnis, Veria) only one of them seems capable of getting two straight wins (Veria).
With the exception of the last week's defeat of Xanthi (2-3 at home from Platanias) the bookies have correctly guessed the alliances of most teams so far. A lot of high-rollers are getting paid lately and all it takes is a couple of not expected results to do some serious damage…
PLATANIAS vs. PANETOLIKOS
I have accused Platanias a lot, especially after the 7-0 win against Kalloni. Their last week's away win against Xanthi (2-3) can be interpreted in two ways. The first is they finally decided to give a fair fight to save the season instead of relying on referees or suspicious teams. The second (which is more probable) is that a lot more teams than I thought are involved in this Omertà, even ones that protest when they see wrongdoings (like Xanthi). Whatever the case, Platanias has increased the chances to avoid relegation and it is really up to them to get some more points against Panetolikos and Panionios (away) with their opponents being totally out of motive.
Panetolikos comes from a home draw against Veria (0-0) after a leveled match. The two rivals had almost the same attempts on goal (10-9) and the result can be characterized as fair. Considering the home strength Panetolikos has shown this season this was not exactly a positive result but the motive of survival for Veria was too strong. The club is supposed to be interested in the sixth place but their last performances show they already have their minds set on the next season.
Betting Pick: No Bet
Low odds on everything…The performances of Platanias this season should lead them straight to Football League. Unfortunately they get a lot of help even when they are bad.
OFI vs. SKODA XANTHI
OFI is not doing very well lately. They might have two consecutive wins against Apollon (2-0) and Atromitos (2-0) but their last three away matches against Aris (0-0), Kalloni (1-0) and Levadiakos (1-0) show they do not want to get in the way of teams that are involved in relegation. This time they play at home but their overall behavior has turned Xanthi into a favorite. The re-match against Panathinaikos for the Cup Semi finals (16/04/14) is the only match they are expected to show any interest.
Xanthi was expected to get an emphatic win against Platanias to end any relegation scenarios but they failed giving their opponent only the second away win (2-3) season. The defensive behavior of the team was poor and with the score at 0-2 at 35' and 1-3 at 77' they did not stand a chance in this match. In order to stay out of trouble they need one win in the last two matches with the next one being at home against Panathinaikos.
Betting Pick: Over 2.5 goals @ 2.00
The bookies are right for their odds in this match but I doubt OFI will disappoint the fans with a poor performance. I expect to see goals by both sides no matter who the winner will be. After all OFI is too strong at home (7W-7D-2L) to go down that easily.
I also have a crazy scenario for this match. If OFI wins today, Xanthi will be forced to look for points in the last match against Panathinaikos. This match will take place next Sunday, only three days before the away rematch of OFI against Panathinaikos at Apostolos Nikolaidis. Hmmm….The win of OFI @ 3.50 is not bad at all, especially when you see the away stats of Xanthi (1W-4D-11L, goals 15-32).
APOLLON SMYRNIS vs. ERGOTELIS
Apollon Smyrnis stayed alive in relegation battle last Sunday with the win against Panthrakikos. Their opponent scored first (11') but Apollon was on the lead before halftime (17', 27'). Things got complicated with the own goal by Kanakoudis (60') but Petropoulos scored with a penalty kick at 76' to give his team a very important win. Coach Sanchez knows the match against Ergotelis is a must win situation as his team is unfortunate enough to have the last match against Olympiakos at Karaiskakis. Platanias and Veria have an easier schedule so Apollon needs the win here and hope that Olympiakos will be indifferent enough to allow them a point in the next match.
Ergotelis comes from a home win against Giannina (1-0) after an average match for both sides. They had more chances than their opponent (attempts on goal 11-5) but their win came after A penalty kick of Chandi at 72' which also left Giannina with a man down for the rest of the match (red card at Tzimopoulos). One thing  is certain; Ergotelis is the only team in places 6 to 18 that can be as dangerous regardless whether they play home (5W-5D-6L, goals 22-22) or away (5W-6D-5L, goals 14-17). The players of Mr. Ouzounidis are not expected to surrender to Apollon although they are surely out of motive.
Betting Pick: Both teams to score @ 2.00
This has been my favorite bet with Apollon all season. They are always dangerous in offense but their defense is unreliable. My next options are the results of Over 2.5 goals @ 1.90 and Over 3.5 goals @ 3.20.
To be honest, I found their matches a lot more interesting than the ones of Veria and Platanias this season. I hope they will manage to stay in Super League because they deserve it although it is obvious there are many "forces" that plan otherwise.