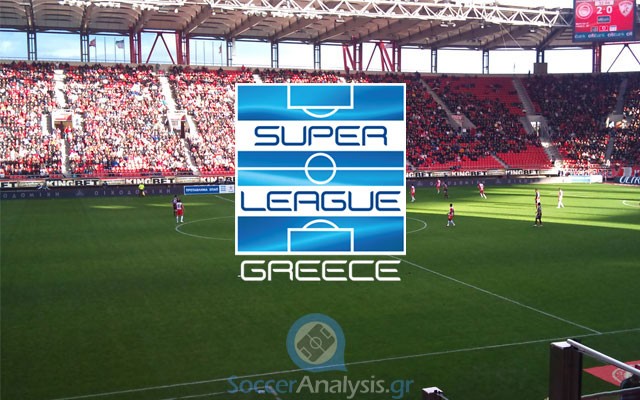 No surprises…yet…
The second round of Super League started on Saturday with three matches. So far the first day of 2016 had no surprises. Asteras Tripolis finally ended a losing streak of 4 games with the emphatic win over Panthrakikos (4-0). At the same time, the undefeated streak of Veria ended at Zossimades as Giannina had no intensions to lose points in the first match of 2016 (2-0). Last but not least, Iraklis 1908 added three more points after the home win over Kalloni (3-0) who did not deserve to lose with this score. So far, everything looks normal which is alarming so let's have a quick look at the Sunday matches.
Platanias – AEK
*This season (Day 1, 22/08/15): AEK – Platanias 3-0
The short holiday break came at the perfect moment for Platanias. The players of Paraschos had a weak start but they were doing great over the last two months (05/10/15 until 05/12/15) having 5W-2D-1L. Their superb form ended after the two consecutive defeats from Giannina (0-1) and PAOK (1-0). The good news is their fighting spirit is still there. After all, they lost from two strong teams with the minimum possible score. The next match against AEK will not be easy either. The home record of Platanias might show 3W-2D-2L (goals 9-5) but you should keep in mind they have lost only once in their last 5 home matches (3W-1D-1L).
December was not a good month for AEK as they gathered only one point in their last two games against Panionios (1-1 away) and Levadiakos (1-2 at home). Their most recent home defeat from a weaker opponent like Levadiakos was not well accepted by their fans and the officials of the club. Neither AEK nor Coach Poyet cannot afford a third consecutive negative result at this moment and the team is expected to be motivated for a win today. After all they are aware of the difficulties of Platanias and they had plenty of time to prepare for this game.
Betting Pick: Over 2.5 goals @ 2.60
Platanias is usually more motivated against top clubs with the exception of Olympiacos. I do expect them to fight for anything they can get out of this match. Considering the motive of AEK for the win, the options that both teams will score @ 2.10 and a result of Over 2.5 goals @ 2.60 are value bets.
Xanthi – PAOK
*This season (Day 1, 23/08/15): PAOK – Xanthi 0-0
I do not have many things to say here. Xanthi has proved they are a tough team to beat and the proof is their 4 defeats after 15 games. The players of Lucescu have a tendency to draws (3W-8D-4L, goals 13-14) but on the other hand PAOK has a tendency to lose points more often than they should. Let's not forget Xanthi got a point at Toumba in the first round (0-0 away) and I will not be surprised if they cause problems to PAOK again.
By the way, do not forget the weather conditions are not expected to help the efforts of the two teams.
#PAOK shared an image of the field at Skoda #Xanthi Arena a couple of hours ago… https://t.co/RKFWmpQUgC

— Soccer Analysis (@SoccerAnalysis_) January 3, 2016
Betting Pick: The draw @ 3.10
This bet is the best option anytime Xanthi is involved (as long as the odds are +3.00) and it came true 8/15 matches so far…
Levadiakos – Atromitos
*This season (Day 1, 23/08/15): Atromitos – Levadiakos 1-0
Both teams got some consecutive positive results on December and my guess is that they were not exactly happy with the break for holidays. Levadiakos had an undefeated streak of 4 games (3W-1D-0L) with a very difficult schedule against Xanthi (1-0 at home), Giannina (0-1 away), PAOK (0-0 at home) and AEK (1-2 away). Their most recent away win against AEK, combined with other results, brought Levadiakos only two points away from the Play Offs (!) but their real goal is just a safe season.
Atromitos finally got three consecutive positive results (Panetolikos 1-1 away, Kalloni 1-0 and Panionios 1-0, both at home) but they are still stuck in the 14th place of the standings. They need to build a serious winning streak to catch up with the Play Offs and in order to do that they need to improve in offense as they have scored more than one goal in ONLY ONE game this season, their away win against Platanias (1-2 on 31/08/15!).
Betting Pick: The win of Atromitos @ 2.70
The two teams have met 20 times (11 home wins-6 Draws-3 away wins) since season 2003-04 and their overall record shows there have been only three away wins, one for Atromitos and two for Levadiakos. I respect coach Matzios (Levadiakos) a lot but I believe Atromitos is a better team despite the problems they had until now. The odds offered on their win deserve our attention but I warn you this is a risky option.
Panionios – Olympiacos
*This season: Olympiacos – Panionios 3-0 (Day 1, 23/08/15) and Olympiacos – Panionios: 2-4 (09/10/15, friendly match, Olympiacos had 11 players called on international duty).
No comparisons can be made between the two clubs as Olympiacos has almost ten times the roster value of Panionios (€94.80 mil vs. €9.63 mil). The good news for Panionios is that the officials of the two clubs have excellent relations over the last years. This explains why Olympiacos has not demolished them in any match since season 2011-12 showing a tendency to 2-0 wins although they could easily look for more. The 3-0 win of the first round was the largest win of Olympiacos over Panionios since the 4-0 win in the Cup on 25/01/12.
Betting Pick: Both to score @ 2.15
Panionios is doing very well this season and considering the recent performances of Olympiacos they have good chances to score today. I do not think they are capable for a positive result but I do expect to see goals from both sides followed by a result of Over 3.5 goals @ 3.25.