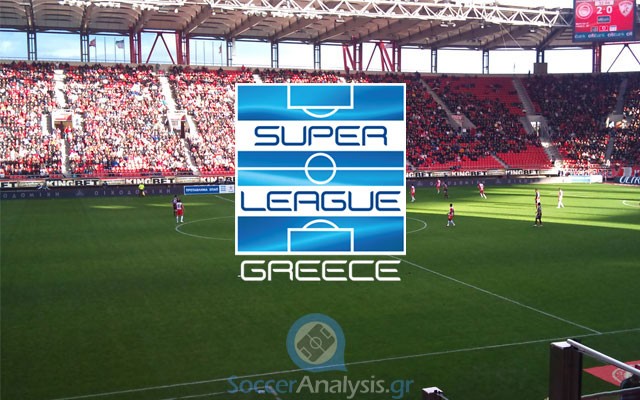 Super League and Cup obligations for most teams
There are two things we need to consider for all Super League matches of this weekend. Firstly, most teams had obligations for the Greek Cup and they also have midweek rematches ahead (12-15/01/15). Secondly, the two matches that were cancelled last week (Xanthi – PAOK and Levadiakos – Atromitos) will take place on 20/01/15 meaning that these four teams are less tired at the moment. Let's have a look at today's matches:
Analysis: Atromitos – Platanias
*This season in Super League (31/08/15): Platanias – Atromitos 1-2
*The two teams faced each other three days ago for the Greek Cup at Perivolia (Platanias – Atromitos 0-0). Their rematch is scheduled for 12/01/15.
*Referee: Anastassios Papapetrou. Games 2-1-1 / 9 goals / 0 penalties / 21 yellow cards / 0 red cards / 1 player sent off.
*Behind closed doors.
Atromitos did not have obligations in Super League last week as their away match against Levadiakos was postponed due to the weather conditions. The players of Dellas are undefeated in both competitions for 40 days (4W-2D-0L) but they still struggle with their scoring difficulties. This was obvious once again in their Cup match against Platanias (0-0 away). More details below.
Banned: Godoy (MID/14/1 assist)
Injured: M'Bow (DEF/1)
Platanias was defeated easily from AEK at home (0-3) which was their third consecutive defeat (and fourth in both competitions). The players of Paraschos showed some signs of improvement on the next home match for the Cup against Atromitos (0-0). They had more energy (and chances) than their opponent but they did not manage to score the goal they needed to take an advantage for the rematch.
Banned: –
Injured: Giakoumakis (FWD/10/2 goals/1 assist)
Doubtful: Coulibaly (DEF/14/1 goal/2 assists)
Betting Pick: The win of Atromitos @ 1.90
The next two home matches of Atromitos against Platanias are very important. If they manage to win both of them (probable since they play at home where they are stronger) they will finally get out of the 14th place in Super League and they will also qualify in the next round of the Cup. They are still after a place in the Europa League of next season and it is important to do their best to claim it any way they can.
Analysis: Veria – Panthrakikos
*This season in Super League (29/08/15): Panthrakikos – Veria 0-2
*Referee: Alexandros Aretopoulos. Games 3-2-1 / 15 goals / 4 penalties / 39 yellow cards / 0 red cards / 0 players sent off.
Veria was defeated in the last match against Giannina (2-0) which was their first away defeat of the season (3W-4D-1L, goals 7-5). The home team scored an early goal (10') and the players of Georgiadis added pressure for an equalizer that never came (attempts 11-13). They were left with a man down at 82' and two minutes later (84') Giannina locked the win. Veria also had a midweek Cup match against Iraklis (0-1) where they failed to turn any of their many chances into a goal. They were better than their opponent and their most important chance was lost at 63' when Nazlidis' penalty kick was saved by Huanderson (GK). Bartolini became the man of the match for Iraklis at 73' when he scored with an AMAZING header giving his team a serious advantage for the rematch. Georgiadis stated his team did not deserve to lose and he was probably right. It looks like the home ineffectiveness (1W-2D-5L, goals 3-10) started to follow Veria in the Cup as well (they had 1W-0D-0L in the Group Stage).
Banned: –
Injured: Kali (DEF/0), Youssouf (MID/9), Verghonis (MID/8), Balafas (MID/0)
Other: Edjenguélé (DEF/10)
Panthrakikos did not have Cup obligations as they were left out of this tournament in the Group Stage. Last Saturday they suffered a humiliating away defeat from Asteras Tripolis (4-0). The home team was in total control and missed a good number of chances (total attempts 21-3!) that could make the final score worse. Coach Eleftheropoulos watched his players having a very poor performance after a long time and he stated they must all concentrate and find out what went wrong. Keep in mind some reliable websites wrote on 30/12/15 that the players of Panthrakikos were unpaid and they were determined to go on a strike. Maybe this explains the sudden chance of their energy.
Banned: Cherfa (DEF/15)
Injured: Baykara (MID/10/2 goals/1 assist), Tzanis (FWD/2, key player, long injured)
Betting Pick: Both to score @ 2.25
Strange match. Veria is not reliable at home (1W-2D-5L, goals 3-10) and, like Panthrakikos, their players have not been paid for 3 months. It makes you wonder which side you should choose. I prefer to risk on the logical option for goals by both sides as both defenses are not reliable.
Analysis: AEK – Xanthi
*This season in Super League (29/08/15): Xanthi – AEK 0-0
*This season in Greek Cup (Group Stage 28/10/15): Xanthi – AEK 0-1
*Referee: Michael Koukoulakis. Games 3-2-1 / 13 goals / 1 penalties / 31 yellow cards / 1 red cards / 1 player sent off.
AEK started 2016 with two away wins. The first was in the match against Platanias (0-3) in Super League where Barbosa scored two goals at 26' and 31' giving a quick end to their task for the 3pts. The home team added pressure to get back in the match (attempts 11-7) but the players of Poyet handled it and scored the third goal at 81' (Djebbour) while Platanias was playing with a man down (Ramos was sent-off at 77'). The second win came in the midweek away Cup match against Levadiakos (0-1). Their opponent was better during the first 15-20 minutes and they could have taken the lead but it was AEK that scored first with a GREAT long shot by Vargas which was proven enough to give them the win. Panthrakikos tried to add pressure for the equalizer but AEK responded well in defense causing problems with dangerous counter attacks.
Banned: –
Injured: Baroja (GK/14)
Xanthi did not have Cup obligations as they were left out of the tournament in the Group Stage (previous round). They have not played in 2016 yet as their home match last week (against PAOK) was postponed due to snow. The players of Lucescu have not been active for three weeks and they have not won any of their last 4 matches in Super League (0W-2D-2L). Their away defeat from Levadiakos (1-0) was followed by a home defeat from Platanias (0-2) and two consecutive draws against Veria (1-1 at home) and Giannina (1-1 away). The supporters of the clubs are not pleased with the recent results but the officials of the club constantly state their faith to Lucescu.
Banned: –
Injured: Papasterianos (MID/10/1 goal)
Betting Pick: Over 2.5 goals @ 2.10
AEK is strong at home (6W-0D-2L, goals 18-5) and the bookies do not believe they can make a second consecutive home defeat. This explains the ridiculously low odds of the home win (1.30-1.35). I do not see any value in this especially when Xanthi is a mystery at this moment. I picked the option of Over 2.5 goals because it looks relatively safe. If AEK shows the usual home determination, they are capable of scoring three goals on their own. If not, Xanthi is capable of scoring at OAKA and help us get paid regardless of the final result.