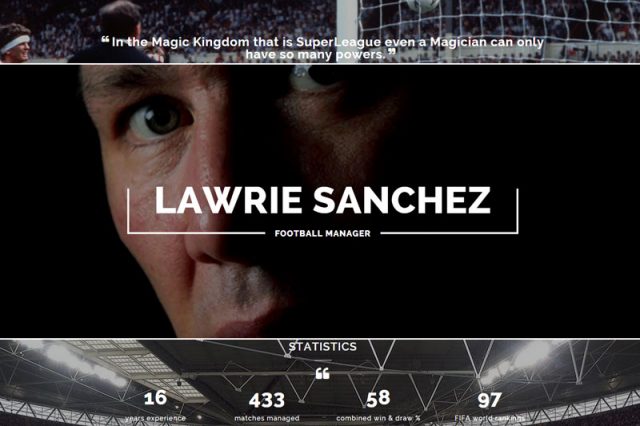 With the link to us that many forgot to include…
If you have read the article with the title Despicable (Super) League you already know my views on some things that took place while the regular season was coming to an end. I am not a supporter of Apollon Smyrnis but I wrote many times that I liked what I watched in the field since Mr. Sanchez took over. Yesterday many websites published his goodbye letter where he talks about everything he experienced in Greece. To my surprise he included a link to socceranalysis.gr giving this small website a moment of fame.
What really bothered me was that only two websites (apollonistis.com and planetapollon.gr) included a full link to this article although there were a lot more who published it. I wonder why others chose to leave it out when they knew the paragraph that had it would make no sense without it… Here is the letter and for the first time I will ask you to share it:
Farewell – Lawrie Sanchez
"I would like to take this opportunity to personally thank you the fans for your fantastic support for Apollon and especially towards myself this season.
Unfortunately we ultimately failed and the consequences for all concerned will inevitably unfold over the coming months.
How did we come to fail?
Many factors contribute to a relegation season, and obviously as we all know, some are outside our control. I will only address those that we had control over.
To become Apollon's 3rd Head Coach in November, even if common in Greek football, does not lead to the stability or the respect that the position requires. If players believe that ultimately they will "see off" several HCs during the season, they start to believe that the power lies with them and that is not the best thing if you want to be a successful club, unless you have an exceptionally talented and professional group of players!
Each new HC takes a minimum of 3/4 games to get his philosophy across to the players and to have to do it three times in Apollon's first season back in SuperLeague, wasted results which Apollon could ill afford to do.
As I said, the professionalism of the players, both on and off the pitch, is tantamount for a successful season. Discipline is an integral part of being a professional footballer and we have missed too many players through suspension during the latter part of the season. To lose 2 key players to suspension whilst celebrating against Ergotelis when we were about to play the most important game in Apollon's recent history, was only the latest example of this.
With regard to the dressing room itself, too many key players didn't influence in a way I would expect from senior professionals. Continual leaks to "our friend" in the press, continual agitating, to who ever would listen, for this player or that player to play or not play, continual negativity about the "outside forces" trying to relegate Apollon until ultimately it all became a self-fulfilling prophesy. The final straw for me was the "sacking" of my appointed captain Alvarez during the power vacuum caused by Mr Vellis statement to withdraw from SuperLeague.  As for the 4 "captains" who added their agreement to this withdrawal, this was at best naive! [It should be noted that Alvarez, still playing captain at that time, did not add his name] All of this infighting just wasted time and energy that should have been focused on our survival.
Having said all the above, I would like to put on record that once the selected 11 players crossed that white line, they gave everything they had for Apollon, as the accumulation of 28 points in 23 games reflects.
Saving said all the above, I would like to put on record that whichever 11 players
I would also like to put on record my thanks to Mr Vellis for the opportunity to manage Apollon, and to his family for their hospitality to me and my family whilst here.  Although I did not agree with his decision to withdraw Apollon from the SuperLeague, I do believe that his values are correct and I strongly urge him to stay, rebuild and return Apollon to SuperLeague status and change Greek football from the inside.
Football is a microcosm of a country and football needs people like Mr Vellis.
I would also like to thank the many people within Apollon who have helped me in my time here. In Stratis, Stathis, Pavlos, Blue, Doc, Mario, the two Thomas's, Spiros, both Nicks ,Costas  and many others,  Apollon has good people and if I didn't get the chance to say goodbye personally forgive me.
To Steve,Greg and Makis it has been a pleasure to work with you and I want to thank you for keeping me sane everyday in what has been an eventful five months.
Ultimately I look to myself and I have failed in the job I came to do and I take that very badly, more than you can perhaps imagine.
Someone said to me this week:
"In England, the final league table doesn't lie because every team gives everything they have in every game from the first day of the season to the last and the final table is a reflection of that.  But that is only in England!"
I know we fought for every point we earned.  Nobody gave us anything we didn't deserve and I refer you to the attached link from someone who knows Greek football far better than me! http://www.socceranalysis.gr/en/superleague/79-hot-articles/445-despicable-super-league.html
Finally I say my farewells, I hope I can return one day and sit in the seats with you at Rizoupoli as a fan and watch Apollon play and we can reminisce about drawing with 10 men in Toumba, or holding Panathanaikos to a draw at Rizoupoli or scoring in the 94th minute against Ergotelis to let us all dream.
I leave you (with a bow to Eric Cantona) with these words
In the Magic Kingdom that is SuperLeague even a Magician can only have so many powers.
Lawrie"
A brief comment by Coyote
Men like Mr. Sanchez (or the Magician like many people like to call him) are a luxury for Greek Soccer. We need their experiences and their way of thinking to improve what Super League likes to call "product". The truth is I cannot blame him or others for leaving as soon as they realize where they came.
Image: www.lawriesanchez.com