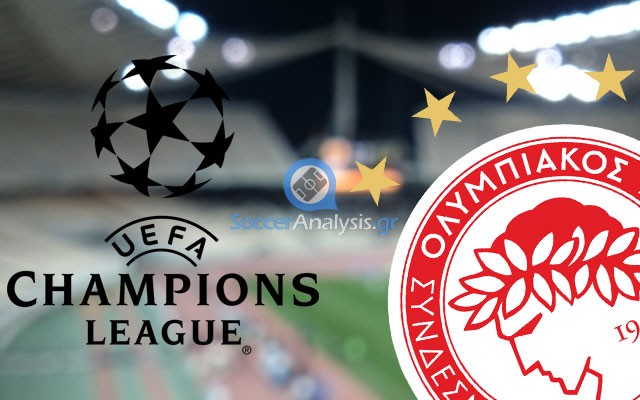 Mind games before Olympiakos' 100th Champions League match
The coach of Malmö FF, Mr. Åge Hareide, pissed off the players and the coach of Olympiakos with his pre-match statements. The answers of Mr. Míchel show that the Greek Champions were annoyed but this could work for their benefit in their most important match in Group 1. If Olympiacos will manage to win tonight, it will be almost impossible to see them out of a top two placement. The preview and betting picks:
ANALYSIS (CHAMPIONS LEAGUE, GROUP A): MALMÖ FF – OLYMPIACOS
*Venue: Malmö New Stadium
*The referee, Mr. Sergei Karasev (RUS), has been active in Europe since 2009. In a total of 10 matches since 2013 he has an average of 3.2 yellow cards. He used a red card only once (second yellow).
*Olympiacos will have the support of 1000 fans. The home team is banned and part of the stadium will be empty.
*This is the first time Malmö will face a Greek opponent. Olympiakos faced only one team from Sweden, Östers, back in season 1982-83. They won at home (2-0) but they lost away (1-0).
*The statements of the coaches from UEFA.com:
Åge Hareide (Malmö)
I think we have a good chance – we had a particularly great home record in qualifying. Olympiakos did well against Atlético [on match day one], especially in front of goal. Atlético had more of the ball and dominated. Olympiakos are not as strong as Juventus and are more on our level.

In their domestic league Olympiakos are used to dominating, but against Atlético they didn't – they won due to good finishing and some not-so-good defending. Teams from Greece are not as good away as they are at home. I met them as Norway coach back in 2007 and there was a huge difference between when we played them at home and in Greece.

When I came here in January, [sporting director] Daniel Andersson told me I could get Markus [Rosenberg]. I wanted to meet him to make sure he was still hungry, but it took only ten seconds. I could see he had the passion and commitment – some people are made for the big games.
Míchel (Olympiacos)
I agree with Åge Hareide: Malmö are favorites. I respect Åge, but we are here to prove that we belong among the elite. If Åge is as good on the touchline as he is at press conferences, we will have a few problems. I don't feel that Åge's quotes will hurt me or the players. It's just a bit of fun.

I grew up learning to respect the opposition. I learned mostly from Real Madrid. I also learned that while the coach is important, the players are the most important. Malmö have good players in Adu, Eriksson and Rosenberg. They have a dynamic system and play well. They will have to wait, though, until they have played Juventus and Atlético at home before they speak about how good the teams are.
*Group A: Juventus (3pts), Olympiakos (3 pts), Atletico Madrid (0 pts), Malmö (0 pts)
Olympiacos was not good in the two last matches for the Greek Cup and Super League. Mr. Míchel left every key player out in the away Cup match against Panachaiki (win 0-1) and it became obvious that he does not have two equal lineups available. His team did not deserve to win but they got extremely lucky, not only because two attempts of their opponent were stopped by the bar, but also because the win came after an own goal. On Saturday Olympiakos was defeated from Atromitos (1-0 away). Mr. Míchel used his best lineup in that match but their performance, especially in defense, was below average. The owner of the club, Mr. Marinakis, was alarmed by the behavior of the players only a few days before the most important match in the club's history. He attended Monday's training and he asked them to improve because the team that he watched at Peristeri was not Olympiakos. Needless to say that Mr. Míchel had the same opinion. There are four absences reported.
Injured: Siovas (DEF), Salino (DEF), Fuster (MID), Benitez (FWD)
Malmö FF is doing great in Allsvenskan and they come from a home win against Mjällby (4-1). Their opponent scored first (39') but Forsberg punished them with a hat-trick (45', 70' and 90'). Rosenberg was the scorer of the second goal (64'). With only four match days left and a safe distance of 9+ points from the rest of the teams, Malmö has almost secured the first place in the standings. They have also been very reliable in European home matches this season (2W-1D-0L, goals 5-0) and their emphatic win over a strong club like Salzburg (3-0) cannot be ignored. In theory they are the weakest team of Group A but they are expected to cause problems to anyone that will underestimate them. The mind games that Mr. Hareide started with his negative comments annoyed the officials of Olympiakos and the match is expected to be tensed. There are two absences reported.
Injured: Thern (MID), Halsti (MID)
Betting Pick: Both to score @ 1.85
The officials of Olympiakos should be grateful to Mr. Hareide because he gave a huge motive to their team. You see, the players are used to having Mr. Marinakis or Mr. Míchel making comments like "wake up" or "play better". Domestic matches might be a bit boring but they know that, one way or another, they will reach their goals until the season ends. Europe is a different story, especially when someone challenges you with no reason.
Mr. Hareide was partially right in his comments. Yes, Olympiakos is not doing very well when playing away. Yes, they do have defensive weaknesses. Yes, the weak performances of Olympiakos so far (with the exception of the home match against Atletico) make Salzburg look like a better "team". HOWEVER, Olympiakos is now motivated, maybe more than they were in the win against Atletico (3-2). Yes, they will probably concede a goal again but there is no doubt in my mind that they will do anything within their power to score the extra goal that will give them the win.
My next option will be a result of Over 2.5 goals @ 2.10. I do believe that Olympiakos can win this match but the odds are way lower than the risk involved for us. The option of Over 3.5 goals @ 3.80 looks fine.