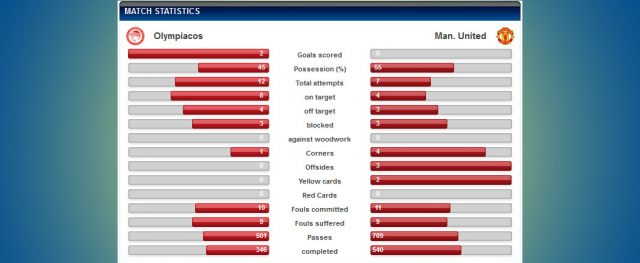 The numbers speak for themselves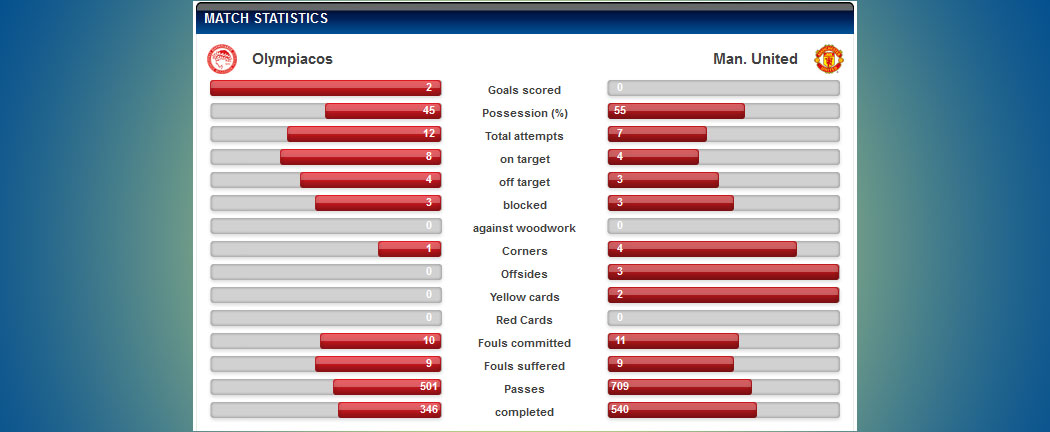 Mr. Míchel said it all. Olympiakos had the best performance in his days at the bench at this home match. After an excellent game they managed a huge win and they are halfway to the Quarter finals. The score allows the Greek Champions to hope they will make it. To be honest it will be a shame if they will not.
Manchester United was clearly not well yesterday and the constant, full court pressing of Olympiakos could not help them feel any better. I must admit I was partly wrong in my approach as Olympiakos was not after the possession numbers but a 100% after the ball. And this made all the difference. The players of Manchester could not make a pass without someone harassing them. Only a look at the stats provided in the official UEFA website are enough for anyone to understand.
Usually unexpected results come from accidental goals late in the match. This time, things were not like this at all. Olympiakos did not suffer the pressure on Manchester United to escape with a late goal. They were the team in control they scored twice and protected their important advantage.
They were never afraid of their opponent and the proof how Mr. Míchel managed his substitutions. When I saw him asking forward Valdez to replace Pérez at 87' with the score at 2-0 it was vividly clear Olympiakos was playing like a GREAT team; a team that determined to stick to the plan looking for a third goal. I just cannot remember any other Greek team getting a win this way in the Champions League.
It is almost certain that Manchester will be better in the second match. It is not just a matter of roster value. We are talking about a team with A LOT of confidence. This team has won the Final against Bayern with two late goals. They hold 20 titles in England and five of them were won in the last seven seasons. Nope, the rematch will not be easy at all. However Olympiakos has improved the chances to move to the next stage from 20% to 50%. The most important thing of all is that they shouted that Greek teams are still here to almost 300.000.000 viewers who watched that match. And for this, they have my respect.
Image: Uefa.com