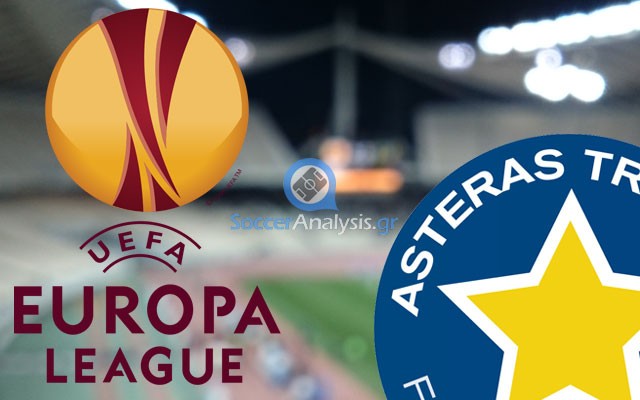 Partizan had more time to rest
Group C is still vague after the two draws in Day 1. Asteras Tripolis, Beşiktaş, Partizan and Tottenham are still in search of their first win in Europa League Groups which will increase their chances for qualifying to the next stage. The performances of Asteras Tripolis at home this season (3W-0D-0L, goals 9-3 in Europe, 2W-0D-0L, goals 3-1 in Greece) have made the supporters of the club optimistic for their next battle against Partizan. The preview and betting pick:
Analysis (Europa League, Group C): Asteras Tripolis – Partizan
*Venue: Theodoros Kolokotronis (Tripoli)
*Group C: Asteras (1 pts), Partizan (1 pts), Tottenham (1 pts), Beşiktaş (1 pts)
*The referee, Danny Makkelie (NED), has been active in Europe since 2009. In a total of 7 matches since 2013, he has an average of 3.14 yellow cards. He has not shown any red cards during this period. He was never present in a match involving a Greek club.
*Partizan has a record of 2W-1D-0L (goals 5-3) in Europa League this season.
*Asteras Tripolis is undefeated at home in Europe with an overall record of 3W-3D-0L. All their wins came this season, against RoPS (4-2), Mainz 05 (3-1) and Maccabi Tel Aviv (2-0).
*The officials of the club are confident there will be a sold out tonight.
Asteras Tripolis got a very important away draw against Beşiktaş (1-1) although they did not exactly deserve it. The home team was in control for most of the match and scored first (33') but they failed to secure the win with a second goal. Parra punished them at 88' and boosted the confidence of his team. Asteras won the three matches that followed (Kalloni 1-0 at home – Super League, Aiginiakos 1-4 away – Cup, Panionios 0-1 away – Super League) after generally good performances. We should keep in mind they are more motivated when playing in Europe but they have been very cautious in their statements for today's match. Coach Verghetis is aware his team is not as experienced as Partizan but this does not mean they will not give their 100% for the win. There are two problems reported.
Injured: Kourbelis (MID)
Doubtful: Kitoko (DEF)
Partizan has an impressing record in Serbian Super Liga with 6W-0D-0L (goals 21-4) and they currently hold the second place having a match less from Crvena Zvezda (19 points). Their last match was on 24/09/14 (last Wednesday) for the Cup. Coach Nikolić used a secondary lineup against Bežanija (Prva Liga, second division) but his team had no problems on getting a new win (0-1). Partizan did not have obligations for Super Liga last weekend and all the players had enough time to rest. There is one absence reported.
Banned: Škuletić (FWD)
Betting Pick: Asteras Tripolis (0-0) to win @ 1.65
The confidence of Asteras Tripolis when playing at home is extraordinary. They have made it this far because of their home strength and I will not be surprised if I see them moving to the next round. I believe Partizan will not underestimate them like Mainz 05 and Maccabi Tel Aviv did. They have been warned and they also had enough time to rest and prepare for tonight.
The win of Asteras Tripolis @ 2.45 includes risk but the odds are great if we consider what the home team has accomplished until now. I noticed a minor decrease over the last few hours (offers now start at 2.30) but I would not spend a cent for anything below 2.40 here.