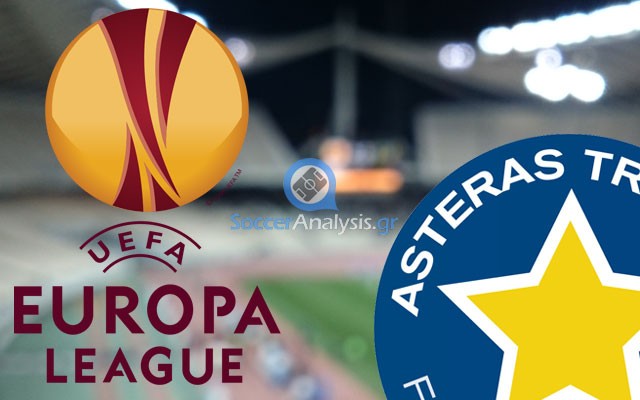 Asteras Tripolis can qualify
From what I watched in the first match in Finland, Rovaniemi is not a team Asteras Tripolis should be afraid of. To be honest I feel RoPS wasted a great chance to have the advantage today as they had a superb start in that match by scoring a goal at 1'. The players of Mr. Verghetis looked shocked for a while but they scored the equalizer at 10' and their stress was gone. Asteras Tripolis left Finland with a draw and they have every right to feel they deserved more not only because they were more dangerous than the home team but also because of their great chance to steal the win at 86' (attempt on bar).
Analysis: Asteras Tripolis – Rovaniemi (RoPS)
On aggregate: 1-1
Kickoff: 24/07/14, 21:00 (GMT+2)
Referee: Vitaly Meshkov (Russia). In his matches for 2014 he has an average of 2-3 yellow cards per match. Two out of his last four matches though had a red card.
Note: The team that will qualify will have to face FC Mainz in the Third Qualifying Round.
The players of Asteras Tripolis got what they wanted in the first match and now they return at home where the team is traditionally stronger. Coach Verghetis was pleased with their efforts in the first match and especially with their reaction after the early goal they received. Theoretically it is now up to them to take advantage of their home strength and move on to the Third Round. Mr. Verghetis was vividly clear in his statements to the press yesterday after a question about FC Mainz (the next opponent). The only thing on their mind right now is RoPS. There are two problems reported.
Doubtful: Sankare (DEF), Kourbelis (MID). Both players were present in the first match and they are considered important.
Rovaniemi expanded their undefeated streak (4W-3D-0L) after the home draw against Asteras (1-1) and the emphatic away win against Mariehamn (2-4) that followed for Veikkausliiga. They might not be as strong as their today's opponent but we should not forget they are in a good form and in an active league. Coach Malinen would surely prefer a win last week but he sounded satisfied in his statements where he acknowledged Asteras was more dangerous and that his team had a hard time in defense. The weather will be on their side today (24°C, a relatively low temperature at this time of the year) but they need to be careful in defense as Asteras is expected to be improved. There two absences reported.
Injured: Pennanen (MID/7/2 goals), Saksela (MID/1). Both players were also absent in the first match.
Betting Pick: Total goals 2-3 @ 1.90
The fixed odds on the home win are too low (1.40-1.45) for a team that is still in preparation mode. Asteras did exactly as I was expecting in the first match and they are a stronger team but I believe you remember how easily they received a goal last week. I do expect them to be concentrated and one way or another they will probably get what they want. If you are willing to risk, the handicap win of Asteras Tripolis (-1) @ 2.40 looks a lot more interesting but I must warn you; it involves risk.