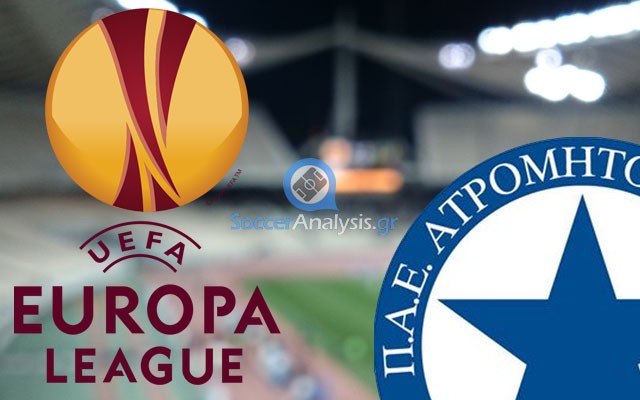 Coach Paraschos has the draw in mind
Atromitos might have an easier opponent than Asteras Tripolis for Third Qualifying Round of the Europa League but this does not mean their task against FK Sarajevo is easy. The team from Peristeri is still in preparation mode and they need to be careful at this point, especially in this away match. Hopefully they can make it to the Playoffs but they will have to prove they are a favorite in the field. The analysis and betting picks:
Analysis: FK Sarajevo vs. Atromitos
*Sarajevo has never faced a Greek club in European competitions. The same goes for Atromitos as they have never played against an opponent from Bosnia Herzegovina before.
*Both teams have never made it to the Playoffs of the Europa League. Sarajevo has failed twice while Atromitos has three unsuccessful attempts to enter that stage of the competition.
*The referee is Mr. Ivaylo Stoyanov from Bulgaria. His profile shows he is less strict in European matches. This will be his fifth Europa League match with the last one being on 17/07/14 (Dimamo Minsk – MYPA: 3-0, two yellow cards).
FK Sarajevo was supposed to be a hot favorite against Haugesund so the defeat in the first match at home (0-1) was a surprise. I remind you they were offered around 1.60-1.65 by most bookies that day. In the re-match in Norway they might had less attempts on goal but they were more accurate. The score was 0-2 by halftime (21' Stojcev, 36' Okic) and they held on to their advantage until the end. Haugesund managed to score with a penalty kick at 47' adding some stress to the match but Okic scored again for Sarajevo at 82' to set the final score (1-3). In theory the team from Bosnia Herzegovina is not better than Atromitos but they do have the advantage of their two official matches (the domestic season has not started yet). There is one absence reported.
Banned: Berberović (DEF/2) was sent off in the rematch against Haugesund
Atromitos had a fantastic regular season in 2013-14 (19W-9D-6L) but they run out of energy in the Playoffs (1W-2D-3L) because of their small roster. Considering the fact that Mr. Paraschos had to use 15-16 players for 40 matches (European obligations NOT included) this was a triumph. Especially when they were the ONLY team that did not lose from Olympiakos (regular season matches). The Greek Super League is starting on 24/08/14 for them so today is their first official battle of the season. There have not been any significant changes in their roster or their bench. Over the last years the careful planning by the club's officials has allowed Atromitos to be considered one of the elite clubs in Greece. There are three absences reported.
Injured: Theologou (DEF/1 last season), Umbides (MID/39/8 goals last season)
Other: Nguem (DEF, new transfer)
Betting Pick: The draw at halftime @ 1.90
Both teams are in preparation mode and I am not optimistic about the quality of the match we are about to watch. Sarajevo failed the first home test against Haugesund and for this reason I believe they should not be trusted. On the other hand Atromitos is usually stronger at home and it is too early in the season to risk on a possible away win.
After all, the statement of Mr. Paraschos for this match was pretty clear; "We are going there to win but a draw will be fine". The draw @ 3.10 as a final result is fine by me. It will also help Atromitos increase their attendance numbers in their first home match next week…